SKINPEN:
THE WORLD'S LEADING MICRONEEDLING DEVICE
DELIVERING DRAMATIC RESULTS IN SKIN REJUVENATION AND RESTORATION
SKINPEN PRECISION FOR EVERY SKIN
SkinPen Precision is the world's leading skin remodelling (microneedling) medical device that creates temporary small microscopic channels in your skin. This simple procedure activates your body's natural skin-healing power to increase collagen and elastin, so your skin returns to a healthier looking and youthful appearance. Watch your skin look younger and rejuvenated with SkinPen Precision.
Are you looking for better-looking skin results for your clients?
BECOME A PROVIDER
Crown Aesthetics is the premier medical aesthetics manufacturer for SkinPen Precision, and delivers proven aesthetic
solutions for leading physician-directed practices worldwide. We provide effective and safe products that grow your
practice and protect your patients.
Products you can trust, backed by the latest aesthetic technology
Industry-setting standard of education for you and your patients
Product exclusivity: only available to physician-directed practices
Dedicated customer service representatives
Marketing resources to help build your practice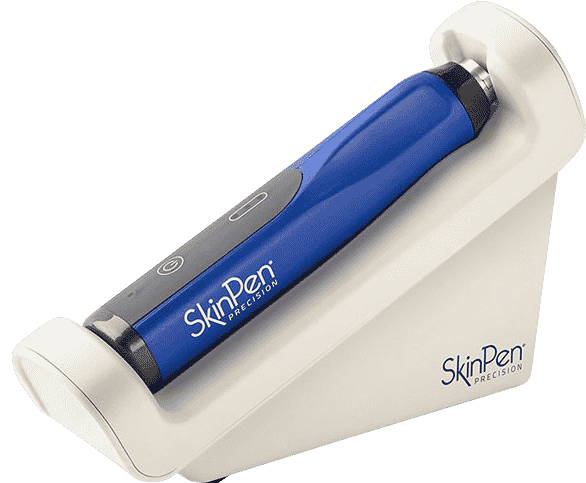 Yes, we only sell the device to qualified professionals; the minimum requirements are a Level 3 in beauty or equivalent (including anatomy and physiology). We sell to Plastic Surgeons, Aesthetic Doctors, Nurses, Dentists, and anyone with minimal qualifications.
At Crown, we offer a comprehensive SkinPen Precision education program which includes 3 hours of online pre-learning modules and a 6-hour Academy, Virtual, Live Seminar or In-clinic Masterclass.
The comprehensive Masterclass is interactive and aims to educate on the versatility and effectiveness of microneedling using SkinPen Precision, following FDA and CE guidelines. The Program's content includes skin anatomy, diagnosis and wound healing responses, mechanism of action, clinical studies, approved FDA and CE protocols, contraindications, precautions, creating satisfied patients, and treatment tailoring.
Yes, it does!
Many of our customers continuously seek to enhance their education proficiency and techniques. We are dedicated to providing our customers with opportunities to stay on top of our latest innovations and to hone their skills. By investing in CPD accredited education to help our practices deliver our premier microneedling treatment to their patients, we are providing our customers with a competitive advantage to grow their customer base.
As a multi-award-winning medical device, SkinPen has set the gold standard for microneedling since 2013. SkinPen Precision is the world's first mechanical microneedling device and has over 90 validated FDA requirements met for System's device & cartridge. Alongside the FDA Clearance, our device is CE Marked for many skin indications, ISO certified for quality and assurance and BSI kitemarked. Safety and efficacy are at the heart of our device.